Bes, 5 Best Kapampangan Signature Dishes
Bes, Anong recipe ba ang hanap mo? Umay ka na ba sa mga luto ni Inay? Here are top 5 Kapampangan Recipe na perfect this holiday season.
Ang Pampanga ay located in Northern area of Luzon. Ang Pampanga ay kilala sa tawag
Culinary Capital of the Philippines, Tilapia Capital of the Philippines.
Here we go...
1. Pindang Kalabaw / Tapang Kalabaw
Photo by
Recipe:
Ingredients
1 Tbsp salt
½ cup sugar
¼ cups anisado wine
1 tsp Prague powder
1 kilo carabao meat, the kasim part, sliced into ¼ inch thick
water for boiling the meat
cooking oil for frying
Instructions
How to make tapang kalabaw or carabeef jerky:
Place salt, sugar, anisado wine and prague powder in a bowl and mix well. Put mixture in a salt shaker.
Sprinkle mixture liberally over each piece of meat, making sure to cover both sides.
Place meat slices either in an enameled, stainless steel or glass casserole.
Cover with plastic cling wrap and store in a cool dark place.
Depending on how sour you want the tapa, allow curing for 2 to 3 days or longer.
To cook the cured meat, boil in enough water to cover all the pieces until fork tender.
Drain and throw away the liquid.
Using 2 forks shred the meat to pieces to look like shredded corned beef.
Heat oil in a frying pan and fry the carabeef until crisp.
Serve with fried rice and fried egg. If there is carabao milk available, you can also serve it along your tapsilog (tapa, sinangag and itlog).
2. Sisig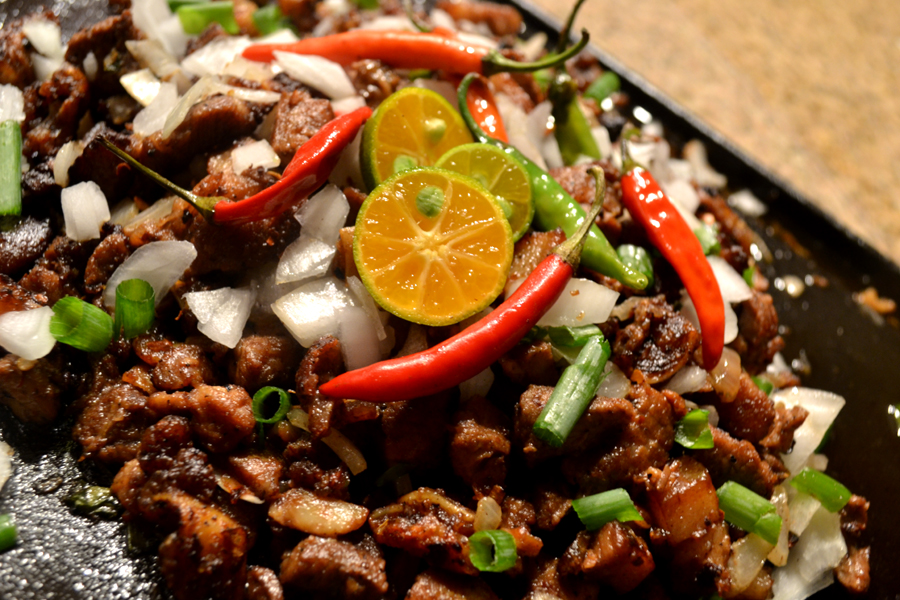 Photo by
Recipe
Ingredients
1 1/2 lbs pig ears
2 lbs pork belly
1 medium onion, minced
4 tbsp soy sauce
¼ tsp ground black pepper
1 small ginger, minced
2 small green chilis, chopped
½ tsp garlic powder
1 lime
6 tbsp butter
1/2 lbs chicken liver
8 cups water
5 tbsp mayonnaise
1 1/2 tsp salt
Instructions
Add water into a cooking pot, add salt and pepper, and bring to a boil
Add pig ears and pork belly and simmer for 1 hour
Remove pig ears and pork belly and dry with a paper towel
Grill both sides of pig ears and pork belly until brown
Chop into small pieces
In a separate pan, melt butter, add onions and cook until soft
Add ginger and cook for 3 minutes
Add chicken liver and crush while cooking
Add chopped pig ears and pork belly and cook for 15 minutes
Add soy sauce, chilis, and garlic powder and mix
Add more salt and pepper to taste
Add mayonnaise and mix well
Move to plate and serve
3. Camaru
Photo by
Recipe
Ingredients:
2tbsps. Oil
½ cup vinegar
1tsp. salt
1 cup sliced tomato
1 onion
¼ k. camaru or rice field cricket
Cooking Instructions:
Individually remove the extremities of the crickets leaving only the head and body.
Heat oil in a pan and sauté the tomato and onion.
Add the vinegar, and allow to simmer for a few minutes.
Add the camaru.
Season with salt.
4. Balo Balo
Photo by

Ing.
1 kg. shrimps
3 kgs. rice
1 cup rock salt
1/2 cup garlic
Instruction
1. Wash shrimps very well. Use only live shrimps.
2.Cook rice. When cooked, add live shrimps, salt and garlic.
3. Put in bottles and close. Allow to ferment for 3 days.
4.Saute with garlic, onions and tomatoes.
5. Bringhe
Photo by
Recipe
Ingredients
1 chicken, cut into serving pieces
1 piece chorizo Bilbao, sliced
1 head garlic, crushed
1 medium onion, chopped
Chorizo de Bilbao lard
½ cup turmeric juice (about 2 pieces peeled and pounded)
1 cup glutinous rice, washed
1 cup rice, washed
4 cups thin coconut milk
1 bay leaf
1 small can pimientos
2 hard boiled eggs, quartered
patis to taste
banana leaves
Instructions
How to cook bringhe:
In a large wok, sauté garlic and onions in the lard. Add chicken and brown, add chorizo and ginger juice.
Simmer for a few minutes and add the malagkit and the rice. Pour in the coconut milk.
Season with patis and add the bay leaf. Cook covered with banana leaves.
When rice is cooked, pile into a serving platter and garnish with sliced pimientos and egg.